Chaperon Wins 10th Snow Tournament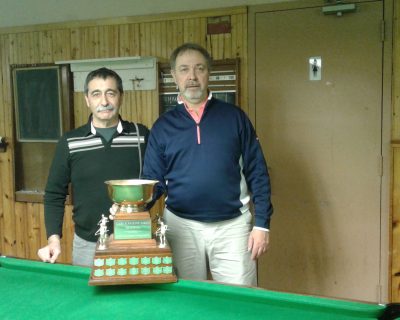 Congratulations to Bob Chaperon for winning his record breaking 1oth Snow Tournament.  Pictures on the left is finalist,  Marc Colameco.
With another great turnout of 32 players, a round robin was played out in 4 groups , followed by a straight knockout.
The Quarter Finals:
Marc Calameco 3  Vern Smith       2
Louis Faekas 3     Wayne Primeau 2
Barry Larone 3    Mike Taus          2
Bob Chaperon 3  Marc Julien     0
The Semi Finals
Marc Calameco 3     Louis Faekas 2
Bob Chaperon 3       Barry Larone 2
The Finals
Bob Chaperon 3       Marc Calameco 1
Thank you to Jeff Scott for running the event and keeping the tradition alive for Canada's longest running snooker tournament.