Gary Wallace Win in British Columbia
Congratulations to Gary Wallace for winning the ANAVets 26 Snooker League Championship by a scoreline of 3-0 over Dalton Roy.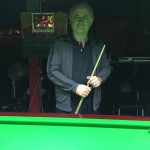 We look forward to seeing the league back on the baize in the near future.
Snooker is alive and well in the province of British Columbia.