Charlie Brown – BC Snooker Champion
Your British Columbia Snooker Champion is Charlie Brown!!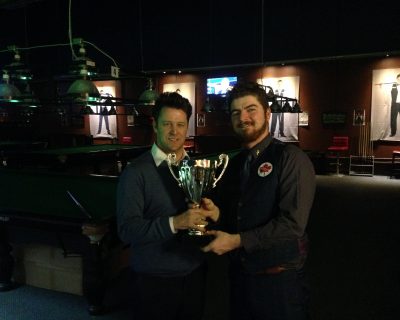 Over the course of the two day tournament "Downtown" Charlie Brown emerged victorious to take the title of BC Snooker Champion.  The first day saw a round robin with 6 groups made up of 4 players with the top 2 advancing to the knockout round on Sunday.  Most of us were clean shaven on Sunday morning when the knockout round started and by the time Brown edged out Kevin Deroo 4 frames to 2 to win the championship, five o'clock shadows were emerging.  It was a long and more tactical battle in the final.  No big breaks to knock your opponent down, but Deroo and Brown know the game very well to grab the points when you can and run and hide when the right shot is not presented.
Blair Major, who travelled all the way from Prince George, made a strong campaign by reaching the semi finals until being knockout out by Kevin Deroo.  A new face to room, C.C. Yoo, who travelled up from the Seattle area made a strong debut by reaching the semis as well.  Brown was up 3-0, but Yoo climbed back to make 3-2.  In the six frame Charlie found his stroke and won the frame to sent C.C. packing.
We had a great field on the weekend, players coming from all over, and we had our first female competitor, Ms. Tina Meng.  As well we had many on lookers throughout the weekend.  Great to see people getting excited about Snooker.  Next big tournament coming up is the Western Canadians, and as well the Richmond League will resume on February 17th.  So remember to sign up to assure your spot.
Thanks again to Jonathan Sun and all the great staff down at Top 147 for hosting and helping us out with this event.  Without their help this tournament would be hard to pull off, thanks again.
Remember keep you head down and practice hard.  See you at the next one!!