Blake Martel Wins Central Canadian Classic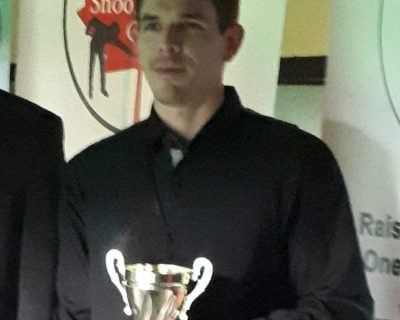 Snooker Canada's 2018 "Central Canadian Classic" has come to an end.
This inaugural snooker championship which was hosted by Bourbon Street Billiards located in Winnipeg,Manitoba turned out to be one of the most exciting and competitive snooker events to come to Winnipeg.
The game of snooker has been on a bit of a decline in recent years here in Winnipeg,Manitoba and although there's been individual efforts made in the past to resurrect snooker in Manitoba and to keep the game going,there hasn't really been enough competitive snooker events here in Winnipeg to attract snooker players from across Canada to come to and compete here in Manitoba.
In a combined effort to bring competitive snooker back to Manitoba,Patrick Guigui the president of Snooker Canada,Bourbon Street Billiards owner Danny G Michael and local snooker players Rod Arriagada and Greg Harder began to work together to bring Snooker Canada's "Central Canadian Classic" to Winnipeg.
The format for this event was single elimination,15 Red Balls Snooker and a race to 4 or best of 7 frames.
The featured lineup included 16 players from 5 different Canadian provinces including players from Alberta,British Columbia,Quebec,Saskatchewan and Manitoba.
The players were Warren Munroe, Stan Chartrand, Blake Martel, Song Chen, Dave Strachan, Arsalan Jami, Darryl Yeo, Steve Kingyens, Omair Ahmed, David Larson, Denis Chapados, Don Chomiski, Craig Kerry, Greg Harder, Raymond Cormier and Rod Arriagada.
The stage was set as these 16 snooker players were set to compete in the 2018 Central Canadian Classic.
Local snooker enthusiasts of all ages gathered at Bourbon Street Billiards to watch the competition live and the event was also live-streamed and shared across Canada for snooker fans and players to be able to watch the matchups live on social media.
The players delivered the entertainment as was expected and there were a few close match ups that could've gone either way for some of the players.
The opening day of the event featured 3 rounds of matches eliminating 12 players from tournament play on the first day and also leaving us with the 4 final players who were returning to play in the Semifinals on Sunday.
The four players remaining in the event were Blake Martel who would be facing Darryl Yeo and Don Chomiski who would be facing David Larson in a final four snooker showdown.
The second day of the event delivered even more entertainment and intensity in both semifinal matches as all 4 players played great snooker and battled hard to earn their spot into the Championship Match and to have the opportunity to be crowned this year's Champion.
Blake Martel defeated Darryl Yeo and Don Chomiski defeated David Larson and the finals for the 2018 Central Canadian Classic were set in stone.
The Championship match began with Don Chomiski winning the 1st frame and going up on Blake Martel 1-0,Blake answered back by winning the second frame tying the match at 1-1.
Blake Martel continued to play with more confidence and won the third frame to go up 2-1.
Don Chomiski had a good chance to tie the match at 2-2 in the fourth frame but an unforced error near the end of the frame from Don Chomiski gave Blake Martel the opportunity to win the fourth frame which he did win to go up 3-1 in the match.
Don Chomiski continued to put up a fight and won the 5th frame to bring the deficit to one making the score 3-2 for Blake Martel.
Frame 6 could've gone either way but it was Blake Martel who would win the frame to defeat Don Chomiski with a score of 4-2,earning Blake Martel the honour of being the 2018 Central Canadian Classic Champion.
On behalf of Snooker Canada,Bourbon Street Billiards and the event organizers we would like to congratulate both players on an excellent performance over the weekend.
Congratulations also to Blake Martel on a spectacular run in this event losing only 2 frames over 4 matches on his way to win the title.
We would like to take a moment now to thank all of the players that traveled and came out to participate in this event which helped make it a success,we appreciate your support and look forward to seeing you again in our future events. Thank you to our 3 referees David King,Rick Thain,Mark Swendrowski our scorekeeper Rick Howard, and co-tournament Director Gord MeWhiney.   Thank you as well to Bourbon Street Billiards for hosting the event here in Winnipeg and for helping snooker to take a step in the right direction.
Danny G Michael,the owner of Bourbon Street Billiards would also like to personally say a few words in regards to this event….
"I just want to thank Patrick Guigui and Rod Arriagada for your effort to bring snooker back to life here in Manitoba,also for your contribution & dedication towards our pool (cue sports) community.
I would also like to thank you for choosing Bourbon street billiards to host the 2018 Central Canadian Classic.
Patrick Guigui & his crew made this event feel like a world class event.
I am very pleased with the outcome and how the event ran here.
Thanks to all players coming in from every corner of Canada to play & thanks to all spectators for making time to watch the games live here at Bourbon Street Billiards in Winnipeg.
We look forward to seeing you back here for future events."
Please make sure to check Snooker Canada's website for future events,you can also follow and find out what's going on in the Manitoba snooker scene on the Central Canadian Snooker Events page.
Cheers everyone!!