Inaugural Royal Montreal Open-This Saturday
Come one come all and take part in the inaugural Royal Montreal Open, a 6 red snooker tournament in the heart of downtown Montreal.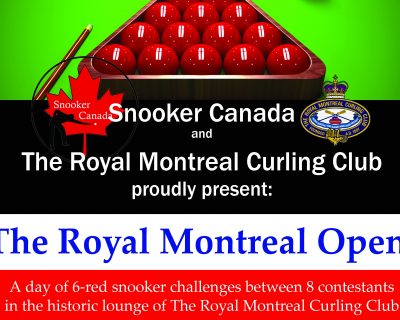 8 participants will battle it out for a seat in a major event which will take place later on this year in Montreal (details to be announced this summer).
Just one block west of Concordia University, the Royal Montreal Curling Club features a world class BCE Westbury snooker table, and it will get proper usage this coming Saturday.
Spectators are welcome to come and take part, eat , drink and watch some great snooker.  All ages welcome.
Event begins at 10 am – 5 pm