Brown wins BC Tournament!!! Chan moves into Number 1 overall
Brown wins BC Tournament!!! Chan moves into Number 1 overall.
Charlie "Downtown" Brown has return to the baize with authority.  He captures his first tournament win of the season.  He defeated our good friend from the island Jon Shoring by score line of 3-0.  It wasn't all smooth sailing for Brown as our new Number 1 ranked player Wayne Chan took him to a decider in their semi final match.  Chan achieved the top spot with an impressive win over Gary Wallace in the 3rd place match.  There is still plenty of snooker left in the season so anything can happen.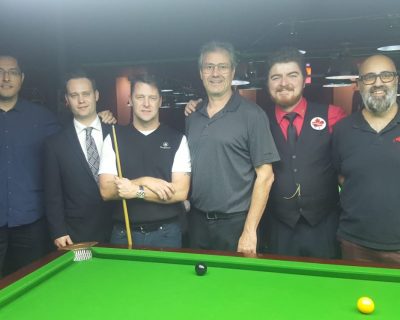 Referee Tyler Choutka laid down the law on the table for the final.  He wasn't noticed in the final which is always a great compliment to a referee, but his great work was well received and appreciated by the players and on looking spectators.  Ahmad Nuri and Mayur Jobanputra aided in behind the scenes to make the tournament run smoothly.
Once again a big thank you to Jonathan Sun and the whole gang at Top 147 for helping us with the tournament and making us feel at home.  In addition the Snooker Canada newsletter is out, feel free to grab one at Jonathan's room to get up to date on the snooker happenings in Canada.
November 17-18, 2018 is the date for the next tournament.  Keep up with your practicing and hope to see you there for some more thrilling snooker action.