Exciting Times in Hamilton For Cue Sports
A new pool room has opened up in Hamilton, and we are excited about this for the growth of the game.
A few words from the people running things down there can be seen below.  Looking forward to a bright future.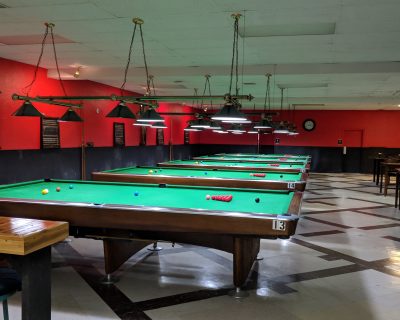 Steel City Billiards was established September 7, 2018. Our passion for the game of snooker encouraged us to create the snooker side of our 5000 sq ft space into what it has become now.
We have changed all the lighting over the snooker tables to daylight LED bulbs for brighter and a more accurate play. With the extensive snooker knowledge of Danny Glumicic  we clean and iron all 5 of our snooker tables daily as well as properly clean all 5 sets of  our Aramith Belgian Billiard Balls to ensure a clean and constant play surface.
We have biweekly OSSL tournaments held at our establishment as well as both Tuesday afternoon and Friday evening in house snooker tournaments that are open to anyone We are able to accommodate a large group of players by having all 5 or our snooker tables properly maintained for daily use.
Our goal as a pool room is to create a relaxing and professional environment for the snooker players.
The way the pool hall is laid out we have worked hard on trying to have  the snooker side as a separate entity. The 8 ball and 9 ball tables are on the other side of the pool hall and separated by a large area of uncluttered space.  Everyday we have different matches of snooker on the tv for players to enjoy in between shots, games or while eating something off our menu . The comfort and consistency for the snooker players is essential to us.
Our near future goals are to carpet the area surrounding the tables and change some of the furniture to further the comfort of our clients and maintain our reliability of players conditions.
For more information, visit www.steelcitybilliards.ca