Colucci Wins Canadian Masters in Montreal
Congratulations goes out to John Colucci for winning the Canadian Masters in Montreal this past weekend, this season;s first ranking event.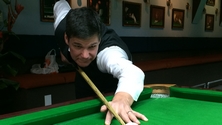 Colucci went undefeated and won the inaugural event by defeating Daniel Matte in a nail biter that went down to the final frame 0n the colors.
Thank you to all the participants that came out to compete as well as all the fans that came to enjoy the matches.
The next event will take place in Hamilton Ontario as players battle to qualify for the Eastern Canadian Championship.
A big thank you goes out to Delta Billiards for their continued support and we look forward to testing out those new cues and cases very soon.
For more information , feel free to reach out at info@snookercanada.ca or (800) 857-1416