Does Snooker Need a Shot Clock?
Following his gruelling 10-8 victory against 2002 world champion Peter Ebdon last night, in a match that required a third session in addition to its scheduled two, Scotland's Graeme Dott gave a typically passionate press conference, addressing the issue of slow play, toilet breaks and the role of the referees in helping to prevent the sort matches from over-running in that fashion.
Click below to read what Graeme had to say, as well as my thoughts on the issue…
Graeme told the assembled press:
"It's always hard playing Peter. I like Peter, so I want to choose my words carefully when I say it because I do really get on well with Peter and I like him, but I think there should be a rule brought in for slow play."
"I think that the standard nowadays is very high and there is no need to be as slow as what Peter was. Is Peter cheating? No because there is not a rule."
"There should be a rule brought in for slow play because I think he's been playing for 25 years, he knows the shot he is going to play. I know the shot, the crowd know the shot and he'll still take over a minute. I don't know what his average shot time was, but it must have been really high, really, really high, which I don't think there is any need to be as slow as that."
"If you don't kill the frame right away then you are going to get bogged down. I mean I was criticised when I won the World Championship. I get tagged as being slow. If anybody tags me for that match being slow, I'll sue them because I feel I'm playing quite quick. I don't know what my average shot time was, but it was probably half of what Peter's was, so I don't think that anybody this time can blame me for that one."
"I'm not a slow player whatsoever but everybody else seems to tag me with it and I don't know how because I'm probably quicker than half the field. Everybody will think "ah well, Graeme Dott and Peter Ebdon had to go into a third session", that I'll get the blame as well."
As to what could be done about it, Graeme explained that during the match he had himself been trying to think of a solution, concluding that the only option would be to introduce a shot clock, as seen in the Premier League and Shoot Out events…
"It's hard to bring in a rule for slow play. He was playing for so long, I was actually trying to think of one when I was out there playing and the only thing I can think of would be having a shot clock and giving time outs. It's the only thing I can think of because it is killing the game."
"Mark Allen actually asked me when I was practising, when are you playing and I said Sunday morning, Monday morning and depending on how Peter plays probably Tuesday, which I wasn't far off!"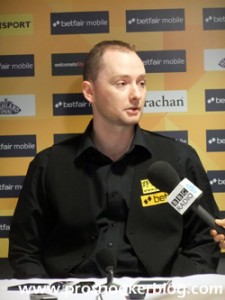 "As I said, none of this is against Peter, I like Peter, I really do like Peter. But I get the impression that 95% of the crowd wanted me to win because of how slow he plays. Even snooker plays probably wanted me to win, because they know he's taking way too long."
"Peter's not the only one that does it, there are other players high up the rankings that liberties and play which I think is wrong. But he is tagged with it worse than everybody else. But I do that if you have 35 seconds to play a shot, everybody should be able to play within that. You know right away what shot you are going to play."
"Because the game took that long, I was thinking of things right and you can't say to somebody that we will give you a minute to play because Peter will take a minute, he will just run the clock down. And you can't say we'll give you thirty seconds, because sometimes you need longer, Ronnie O'Sullivan might take a minute. The only thing would be 30 seconds and two or three time outs a frame. I think would speed the game up, even in the World Championship, in every tournament. I think that is more than quick enough for everybody."
"I think Peter would play better, I think Peter overcomplicates when he's there because any snooker player watching can see it's red-pink-red-black and I'm looking, to see what is he looking at? He must be thinking eight, nine, ten shots ahead and then he misses the next red. I think he over-complicates it. When he played quicker he was much better, but who am I to tell Peter, he's a great player and he is obviously doing it for a reason, but I don't think it's right."
Shot clocks aside, Graeme also spoke of the role of the referees in keeping the action quick, arguing that past officials would say something to the players:
"He's not cheating, he's well within his rights to take as long as he wants but the problem is, referees back in the day would have said "listen Peter, you need to hurry this on a bit." The referees nowadays say nothing. I asked the referee when he went to the toilet, it was like six minutes and I said "how long is he going to be at the toilet?" and he said "yeah I know it's bad isn't it?"
"So the referee is never going to say that you need to speed up. They warned Dean Reynolds, they warned Chris Small. I've never seen anybody in this day and age get warned. It doesn't happen."
"Referees back in the day were harder, I remember John Williams saying to Quinten Hann, 'no play, you are not going to the toilet, you've been to the toilet' and that would not happen these days. Len Ganley would have said something.
"I think the referees nowadays just referee, they don't want any controversy. Maybe they are not experienced enough to know when somebody is taking too long to take a shot. The players would know, if a player was refereeing they'd say listen you've had 40 seconds here, there's nothing to think about."