Another TV Snooker Program In The Works
Cogeco was so impressed with the feedback from last month's Richler Cup, they decided to come back for more.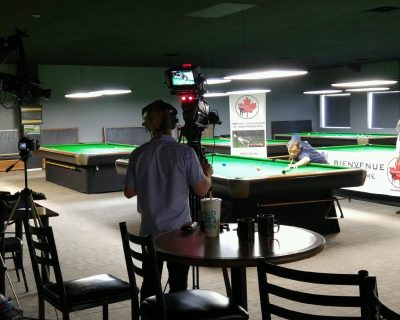 This time, it was to produce a short program with the basics of the game and to introduce it to the public.
Snooker Canada would like to thank Shooterville for once again being the host venue for the shooting.
A big thank you goes out to all the people that came down to help out and make this possible.  It takes a group effort to get things like this together, and the feedback has been very positive on all sides.  Can;t wait to see it!
David Puddy, Steph Coté, Joe McDonald, Derrick Claus, Larry Lasalle
Rob Decator – RGD Photography and Media Conversions
Thanks to James and the crew for a great day!
Dates and times for the show will be announced shortly.