Loyer Wins Eastern Canadian Championships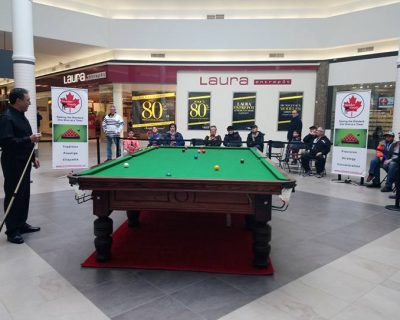 Congratulations to Fern Loyer from Sudbury, Ontario for winning the 2017 Eastern Canadian Snooker Championships with a 5-0 victory over John Colucci.
After a long battle in the semis with 2016 Richler Cup winner Alex Zhang, John Colucci ran out of steam against the Canadian Senior champion.
Snooker Canada would like to thank all the people that were involved in making this event a great success.
Tournament Director : Sylvain Ethier
Master of Ceremony : Daniel Paquette
Tournament Host : Jacob Fraenkel
Venue Host : Place Vertu
Head Referee : Sylvain Ethier
Tournament Referees : Sylvain Ethier, David Puddy, Dan Paquette
Live Streaming : Guy Simard , Billard Quebec
Radio Media : Ted Bird, Jewel 106.7
Table Mechanic : Billard Neuf
Tournament Webmaster : Jonathan Perlman
Promotions : Mohammad Obeid
Tournament Sponsors : Canada Billard
Unless someone has ever been involved in organizing an event of this magnitude, it would be very difficult to understand what is involved in executing all the details.
A big thank you goes out to all the volunteers, without you, this event could not happen and you will each be thanked personally.