Canadians Fulfill a Dream in London, England
18 Canadians Check Off Bucket List Item – Now you can too !
What started off as a small journey, ended up becoming something quite fascinating, as 18 Canadians from across the country gathered together to see snooker being played at its finest in London , England.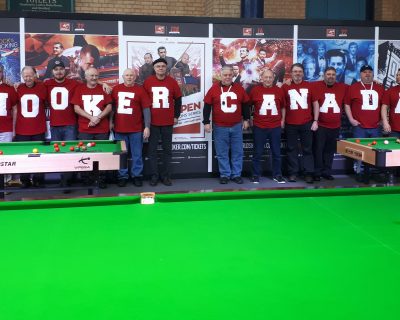 Most of the people that went, did so either alone or with another companion, but at the end of the trip, they all knew each other, and they all accomplished the same dream they once shared.
With 5 people already signed up for next year, this looks to become an annual tradition.  Visit one of the most beautiful cities in the world, and see one of snooker's most prestigious tournaments, The Masters.  The World Championships would be another good choice, however, a couple of things makes this a bit more challenging.
For one, flights are more expensive in the spring and another roadblock is that the seating capacity for the World Championships is much less than at the Masters, and thus sells out a lot faster.
In the end, they came from British Columbia, Alberta, Manitoba, Ontario & Quebec, and it was a trip to remember.
Oh and by the way, the trip is not as expensive as most people originally thought.  It turns out that for $1900, an arrangement can be made for  airfare, spectator tickets (3 days), and accommodations (4 nights).   Of course, you are free to increase your stay and/or number of spectator tickets, if this is what you choose to do.
For more information, contact us at (800) 857-1416 or  info@snookercanada.ca