Your 2 Québec Finalists – Marc & Gord
Your 2 finalists for the Canadian Snooker League in Québec were Marc and Gord.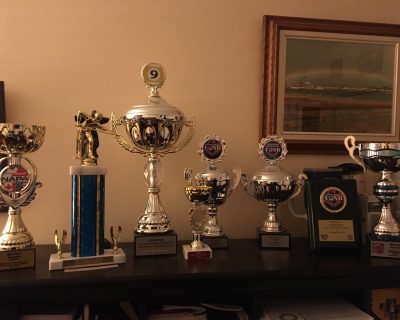 Gord has been a great Billard 9 ball player in different leagues APA, CPA, LBA and FQSB.
He has won many trophies and still likes striking those balls in the pockets.  Started playing snooker a few years ago, and now getting to know the game.  Good competitor, great shooter and always looking for the winning stroke.
We welcome Gord to our snooker league and enjoy his participation and his shooting skills at the game.
…and the winner goes to Marc.
Marc began to play billiards at the age of 12 on a 4×8 table.
At 14 he began to play Snooker and enjoyed it from day 1. It was a challenge coming off a 4×8 table to a 6×12 but seemed to catch on quickly.
Playing competitively at the age of 17 he was known for his incredible cuts and massé skills.
At the age of 22 he put away his cue and stayed in the closet until 2010 when a friend noticed billiard trophies in his display care at his home and convincing Marc to join a 9 ball league.
Marc won a few 9 ball tournaments in two separate leagues but his passion for snooker was always there.
Marc Joined a Snooker club in Pierrefonds and never looked back and went on to win a snooker tournament.
" Snooker is a game requiring a high level of skill and strategy unlike any other billiard game" a comment shared by snooker and non-snooker players novice and pro alike.
Marc will continue to play and defend his title .
A big thank you goes out to all the players for participating and to Ron for organizing and running the league.  We look forward to the next edition with some new players to join in.